Hardscaping Experts
Similar to landscaping, hardscape projects customize and beautify your outdoor living space. In addition, most hardscaping incorporates elements that enhance usability. Patios provide an area for entertaining, barbecues create an open air kitchen, and fire pits warm visitors on chilly nights.
Bay and Beach Landscape of Virginia Beach servings all of Hampton Roads, specializing in hardscape design to make the most of your outdoor surroundings. Decades of experience in the field have given us a strong artistic eye for detail and expertise in creating functional, aesthetically pleasing hardscapes.
To learn more about our services or schedule a free consultation, please take a moment to fill out our online contact form.
AVAILABLE HARDSCAPE FEATURES
Hardscaping features are diverse, and each works to enhance the outdoor living space in a way that best serves the needs of our clients. We view the entire property comprehensively, weighing how each element will impact the space and our clients' changing needs in the future.
Examples of available hardscape features include:
Travertine, Driveways, Flagstone, Paver Patios, Paver Walkways, Stepping Stones
Outdoor Kitchens
Fire Pits and Fireplaces
Retaining Walls
Outdoor Bars
Pergolas and Shade Structures
Multi-level or Tiered Stone Decks
Any number of hardscape elements may be combined to create your ideal outdoor living space, and our projects often include the use of boulders, lighting, pots and plants, and other materials to create a cohesive, balanced environment.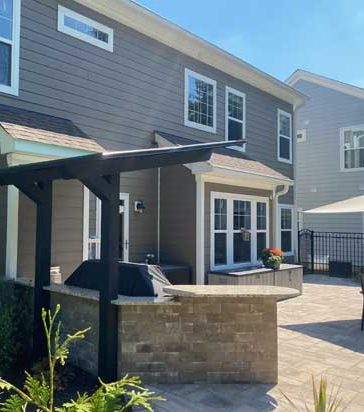 CREATING HARMONY AND BALANCE
Choosing Bay and Beach Landscape of Virginia Beach to design your surroundings lends continuity and harmony to the final project. Each element is carefully weighed for the impact it will have on the overall visual appeal and mood of the space. While recognizing the importance of aesthetics, we work closely with each client to ensure the hardscaping will blend with his or her unique lifestyle.
Questions you can expect during an initial consultation include not only those about the placement and size of a patio but also how much entertaining you would like to do, and whether the area needs to be designed in a way that will keep children and pets safe.
Our installation techniques and commitment to using only the finest quality materials available ensure that your hardscape will be durable, long-lasting, and beautiful for years to come. Further, we practice a strict adherence to honoring the project's proposed timeline. Our focus on open communication and professionalism truly sets us apart.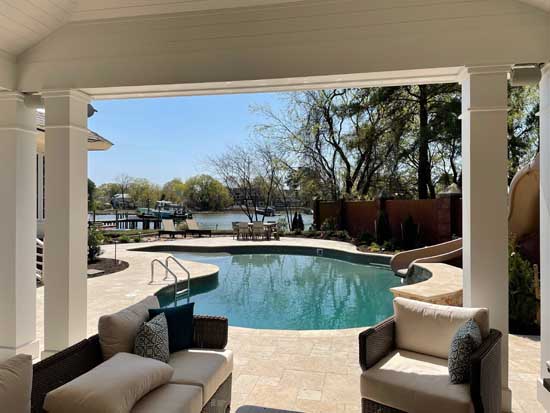 SCHEDULE A CONSULTATION
If you have been considering a costly addition to your house, consider the advantages of hardscaping: extend your living space in an affordable way that allows you to enjoy Virginia Beach's temperate spring and fall weather. The benefits of time spent outdoors in a natural environment include reduced stress and our projects provide a natural, open place to hold social events or relax outside.
During a free consultation, we will meet with you to discuss ways to maximize the usage of your available space, while creating an aesthetically pleasing result. If you are interested in sculpting your yard in a way to best suit your lifestyle, contact Bay and Beach Landscape of Virginia Beach today.